METAL DETECTOR DETECH
DISTRIBUTORE UFFICIALE ITALIA www.detechitalia.it
DETECH RELIC STRIKER
NUOVO PER 2016 DETECH RELICH STRIKER
euro 790 con la bobina grande sef 15x18 dd
con batterie caricabili e caricatore di serie.
rileva monete a 45 - 50 cm, elmetti fino a 1,5 mt, siete i benvenuti a trovarci per fare comparazione tecniche con i vostri strumenti
Progettati per funzionare con un'innovativa frequenza verylowfrequency molto bassa di 4,8 khz, apposita per penetrare meglio il terreno e raggiungere oggetti che nessun altro e' riuscito a rilevare prima di ora. Indicato per la ricerca di relitti militaria ricerca bellica e pure di monete medaglie distintivi ec... il metal detector piu potente con queste specifiche. Dopo mesi di innumeroveli prova abbiamo scelto questa frequenza in quanto dà al rilevatore dei vantaggi unici:

- Estrema sensibilità e profondita' di ricerca

- Alta recovery speed

- BUONA DISCRIMINAZIONE

- FUNZIONAMENTO incredibilmente stabile

- RILEVA A PROFONDITA' ESTREMA RELITTI, ELMETTI, GAVETTE E BORRACCE, MONETE, MEDAGLIE, ARTIFATTI EC..EC..

- STABILITÀ DI INTERFERENZE ELETTROMAGNETICHE

Il relich striker è un METAL DETECTOR PROFESSIONALE ALL TERRAIN.HA IL BILANCIAMENTO AUTOMATICO E MANUALE . La forma di discriminazione REGOLABILE, ALTA QUALITÀ DEL DOPPIO TONOIDENTIFICAZIONE TARGET - TONO BASSO per i target FERROSI, acutoPER GLI OBIETTIVI NON FERROSI e prezioso. ha anche un ALL METAL(GROUND ADJUST ENABLE), modalità automatica per il riconoscimento della CARICA DELLA BATTERIA assemblato e TUNNING per un funzionamento ottimale..

Dotato di serie della grande piastra 15x18dd sef, impermeabile eresistente a temperatura, FATTO DI POLIMERO forzata con protezione UV,ROBUSTO E INTERCAMBIABILE,

Il rivelatore ha la asta TELESCOPICA IN 3 PARTI. LA LUNGHEZZAOPERATIVA MASSIMA dell'albero è 57 "(1450 mm) - permette di lavorarecon agio anche agli utenti molto alti e bassi. LA LUNGHEZZA OPERATIVAMINIMO 35 "(880 mm) - cosi il detector potrebbe essere gestito anche da un bambino. In posizione di trasporto LA LUNGHEZZA DEL ALBEROPIEGATO E 'SOLO 29 "(740 mm).

L'albero inferiore è resistente alle vibrazioni, FATTO DI FIBRA DI VETRO .ANELLI NUM-LOCK sono molto forti e CONVENIENTE E SICUROassicurarsi che l'avvitamento. L'impugnatura ergonomica è con Regolazione continua DELLA DISTANZA AL BRACCIO, MOLTO BENE MONTAGGIOLA MANO.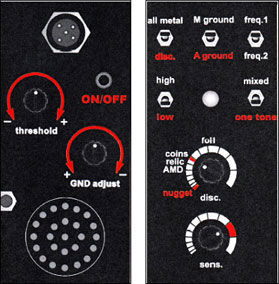 LA SCATOLA DI CONTROLLO permette l'accesso facile a tutti i comandi e gli interruttori SUL PANNELLO ANTERIORE E POSTERIORE, èposizionato in modo DARE EQUILIBRIO PERFETTO DEL RILEVATORE.
VIDEO MANUALI CORSO D'USO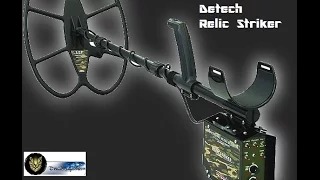 << cliccare per il video corso e
test profondita'
video uso relich striker , piu altri
video li trovate al gruppohttps://www.facebook.com/groups/479291995583535/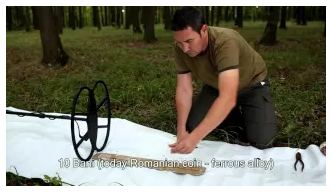 video uso test profondita' relich
striker

LA MARCA e al qualita di tutte le parti del rivelatore è di altissima qualità, componenti solo di professionali e di qualità e circuiteriaELETTRONICA alla stato dell arte DETECH.
LA GARANZIA DELLA CENTRALE E DEI Searchcoils è di due anni.
VERSIONE INGLESE - ENGLISH VERSION
RELIC STRIKER
Extreme Depth & Sensitivity
Professional all Terrain Metal Detector
The new professional ALL TERRAIN metal detector. The Detech Relic Striker uses ultra low frequency 4.8 kHz. The best VLF detector ever made. Professional treasure hunters appreciate a low frequency to more effectively reach for low-lying relics, treasures and militaria.
In depth-first search comparison with detectors of other manufacturers, the device also pointed to highly mineralized soils with large metal parts to its enormous, superior penetration and performance. It was superior even PI-Pulse Induction devices here. The detector is equipped with waterproof and shock-resistant search coil and may be used at any temperature (with UV - protection). Very stable operation.
Two-tone target identification. Low tone for ferrous metals, high tone for ferrous metal. The ergonomic handle is adjustable, depending on the forearm of the individual user. Genuine leather pads on the handle and the armrest give the feeling of pleasant coolness, and limit the manual welding.
According to the manufacturer were in large metal objects under optimum conditions, depending on the soil structure and object size with the search coil Ø 18x15" (38cm x 46cm), search depth up to 2 meters achieved.
All components of the detector are made of high quality materials. The microprocessor-controlled device with the very best components will convince you.
Specifications and Features:
• Search Systems: VLF Motion and Non Motion
• Operating Frequency: 4.8 kHz
• 2-fold acoustic metal discrimination
• Audio frequency: 250 Hz Low Tone, 550 Hz Simple Tone, 1100 Hz High Tone
• Very stable even with electromagnetic interference
• Discriminator metal discrimination adjustable, very good ferrous scrap suppression
• Automatically detects the size and type of coil for proper operation
• Visual and audible battery check
• Sensitivity Control-depth search power adjustable
• Deep search performance also adjustable via high and low
• Automatic or manual Ground Balance
• 1 x waterproof search coil SEF Ø 18x15" (38cm x 46cm) with protection
• Built-in Speaker and Headphone connection 3.5 mm jack
• Camouflage with black telescopic handle 3-fold divisible
• Operating time with 6 x 1.5 V batteries: Ca. 30 hours
• Weight: Approx 1,6 Kg

We deliver RELIC STRIKER with:
• 1 x search coil SEF Ø 38cm x 46cm
• 1 x search coil protector
• 6 batteries
• Charger with 6 x 2200 mAh battery
•
English manual
• 2 Years guarantee